February 19, 2019
Dialysis and Transplant Patients at Increased Risk for Cancer Death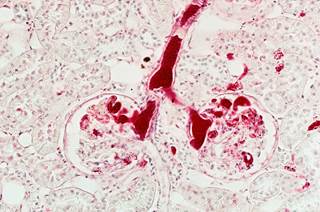 Dialysis patients were more likely than transplant recipients to die from pre-existing cancers, whereas transplant recipients were more likely to die from de novo cancers.
Dialysis patients and kidney transplant recipients have nearly triple the risk of dying from cancer than the general population, according to new study findings published in the Journal of the American Society of Nephrology.
Eric H. Au, MBBS, from the University of Sydney in Australia, and colleagues followed up 52,936 patients who started dialysis and 16,820 who received a kidney transplant from 1980 to 2014 using the Australia and New Zealand Dialysis and Transplant Registry. Of these, 2739 dialysis and 923 transplant patients died from cancer. The standardized mortality ratio (SMR) was 2.6 for dialysis patients and a 2.7 SMR for transplant recipients for overall cancer.
Dialysis patients with multiple myeloma, testicular cancer, and kidney cancer had the highest SMRs: 30.5, 17.0 and 12.5, respectively. Among transplant recipients, the highest SMRs occurred in those with non-Hodgkin lymphoma (10.7), kidney cancers (7.8), and melanoma (5.8).
Dialysis patients were more likely than transplant recipients to die from pre-existing cancers (61% vs 9.6%), the team found. Transplant recipients were more likely than dialysis patients to die from de novo cancers: SMR 2.6 vs 1.2. Dialysis patients died within a median of 2 years, whereas transplant recipients died within a median of 8.6 years. Dialysis and transplant patients aged 20 to 34 years experienced a 10-fold increased risk of dying from cancer compared with the general population. Women had slightly higher risks for cancer death than men.
The high cancer mortality rate seen in dialysis patients with a pre-existing cancer that leads to end-stage renal disease, such as multiple myeloma and kidney cancer, and the relatively short time to cancer death (less than 2 years) after dialysis initiation "suggest that despite commencement of dialysis, these patients' overall prognosis may still be predominantly affected by their underlying malignancy," Dr Au's group observed.
"The poor outcomes experienced by transplant recipients for certain cancers may be due to a range of factors, such as the influence of immunosuppression on the aggressiveness of cancer development and the limited available treatment options for these cancers," the authors wrote.
Reference
Au EH, Chapman JR, Craig JC, et al. Overall and site-specific cancer mortality in patients on dialysis and after kidney transplantation. J Am Soc Nephrol. DOI:10.1681/ASN.2018090906