February 26, 2019
Sertraline Outperforms CBT for Depression in Hemodialysis Patients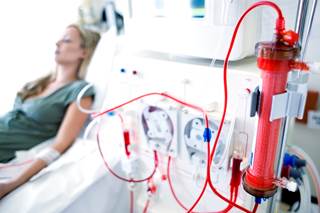 Hemodialysis patients with depression benefit more from Sertraline than cognitive behavioral therapy, study finds.
Sertraline is modestly more effective than cognitive behavioral therapy (CBT) in treating depressive symptoms in patients on maintenance hemodialysis (HD), new study findings suggest.
The study, led by Rajnish Mehrotra, MD, MS, of the Kidney Research Institute at the University of Washington in Seattle, also found that engagement interviews had no effect on patient acceptance of depression treatment.
The findings are from the ASCEND (A Trial of Sertraline vs. Cognitive Behavioral Therapy for End-stage Renal Disease Patients with Depression) open-label trial, which involved 41 dialysis centers in 3 US metropolitan areas.
"The information in this clinical trial should facilitate individualized patient and provider decisions on options for treating depression in patients receiving maintenance hemodialysis," the authors concluded in a paper published in Annals of Internal Medicine.
ASCEND enrolled patients who had been on HD for at least 3 months and had a Beck Depression Inventory-II score of 15 or higher. The trial consisted of 2 phases, with 184 patients participating in phase 1 and 120 in phase 2.
In phase 1, investigators randomly assigned patients to an engagement interview visit aimed at increasing patients' willingness to accept the diagnosis and treatment of depression, or to a control visit. The engagement visit was conducted face to face by trained therapists while patients received outpatient HD. "The therapists used motivational interviewing to help participants articulate their ambivalence about treatment and echoed back to patients their expressions of wanting life to be different." The primary outcome was the proportion of patients who initiated depression treatment within 28 days.
In phase 2, investigators randomly assigned patients to receive CBT or sertraline for 12 weeks. CBT consisted of 10 sessions of 60 minutes each while receiving outpatient HD. Therapists conducted sessions face to face with patients. The primary outcome measure was depressive symptoms measured using the Quick Inventory of Depressive Symptoms-Clinician-Rated (QIDS-C) instrument, on which higher scores indicate worse depression.
In phase 1, the proportion of patients initiating treatment after the engagement or control visit did not differ significantly (66% vs 64%, respectively). In phase 2, sertraline treatment resulted in significantly lower QIDS-C depression scores at 12 weeks compared with the CBT group (5.9 vs 8.1). Adverse events occurred more frequently in the sertraline than CBT group.
The authors speculated that the engagement interview had no effect on depression treatment acceptance among HD patients "perhaps because such an interview lacks efficacy in this patient population."
In an accompanying editorial, Jennifer E. Flythe, MD, MPH, of the University of North Carolina School of Medicine in Chapel Hill, commented that the study "provides equipoise for clinicians choosing between CBT and sertraline to treat depressive symptoms. The small differential efficacy across treatment groups is of questionable clinical significant, suggest that clinicians may offer both therapeutic options without concern for compromising outcomes."
Reference
Mehrotra R, Cukor D, Unruh M, et al. Comparative efficacy of therapies for treatment of depression for patients undergoing maintenance hemodialysis. Ann Intern Med. 2019; published online ahead of print.
Flythe JE. ASCENDing to new heights in our understanding of the treatment of depression among individuals receiving hemodialysis. Ann Intern Med. 2019; published online ahead of print.