November 01, 2018
ASTRO: Stereotactic Ablative RT OK for RCC in Solitary Kidneys
This article originally appeared
here.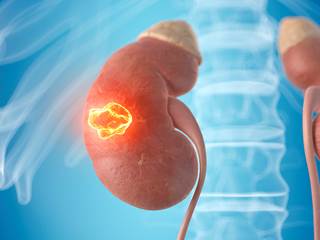 Local control, cancer-specific survival at 2 years similar for patients with solitary, bilateral kidneys
(HealthDay News) -- For patients with renal cell carcinoma (RCC), stereotactic ablative radiotherapy (SABR) seems to be as safe and effective for patients with a solitary kidney as for those with bilateral kidneys, according to a study presented at the annual meeting of the American Society for Radiation Oncology, held Oct. 21 to 24 in San Antonio, Texas.
Rohann J.M. Correa, MD, PhD, from the London Health Sciences Centre in Ontario, Canada, and colleagues compared demographics and treatment outcomes for 223 patients with RCC in solitary kidneys (81 patients) and bilateral kidneys using pooled data from 9 institutions.
The researchers found that solitary kidney patients had a higher mean estimated glomerular filtration rate (eGFR) at baseline than those with bilateral kidneys (64.6±21.7 mL/min vs 57.2±21.6 mL/min). A similar post-SABR decline in eGFR was seen for solitary and bilateral cohorts, with mean decreases of −5.8 (±10.8) and −5.3 (±14.3 mL/min), respectively. Dialysis was not required for any of the patients in the solitary cohort vs 4.2% of patients in the bilateral cohort. Local control and cancer-specific survival were similar for patients with solitary and bilateral kidneys (98 vs 97.8% and 98 vs 94.3%, respectively). Overall survival was also similar between the cohorts (81 vs 82%, respectively).
"We were somewhat surprised that SABR could achieve such a high local control rate without more significantly impacting renal function in the solitary kidney setting," Correa said in a statement.
References
Correa RJM, Siva S, Staehler M, et al. Renal SABR in Patients with a Solitary Kidney: An Individual-Patient Pooled Analysis from the International Radiosurgery Oncology Consortium for Kidney (IROCK). Radiol Oncol. DOI:10.1016/j.ijrobp.2018.06.275

High-dose, high-precision radiation therapy safe and effective for kidney cancer patients with only one kidney. American Society for Radiation Oncology; October 22, 2018 (news release).