February 14, 2019
PCa Grade Group Better Predicts Pathologic Outcomes, Recurrence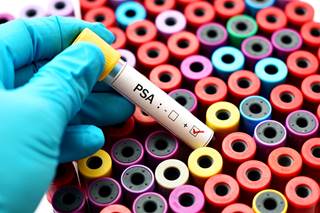 In a "real world" study, biopsy and surgical grade groups 2, 3, 4, and 5 each were associated with incrementally higher risks for adverse pathologic features and biochemical recurrence.
The Grade Group system (GG) introduced in 2013 improves prediction of pathologic and early oncologic outcomes in patients undergoing radical prostatectomy for prostate cancer (PCa), a study found.
In the MUSIC (Michigan Urological Surgery Improvement Collaborative) study, 8052 men with PCa who underwent biopsy and radical prostatectomy (RP) at community urology practices in Michigan were classified according to GG and traditional Gleason scores. As biopsy GG increased, so did patients' risk for extraprostatic extension, seminal vesical invasion, and positive lymph nodes, Brian R. Lane, MD, PhD, and colleagues reported in The Journal of Urology. GG 5 patients fared worse than GG 4 patients and GG 3 worse than GG 2. Men with biopsy GGs 3, 4, and 5 also had significantly shorter times to biochemical recurrence (BCR) than men in the GG below them.
BCR risk increased significantly by 2.1-, 1.5-, and 1.7-fold for biopsy GG 3 vs 2, 4 vs 3, and 5 vs 4, respectively, and by 2.7-, 1.7-, and 1.7-fold for RP GG 3 vs 2, 4 vs 3, and 5 vs 4, respectively.
Overall, GG better predicted extraprostatic extension, seminal vesical invasion, positive lymph nodes, and biochemical recurrence than traditional Gleason scoring.
"The new GG system allows for better discrimination between individual groups than GS using biopsy tissue and RP specimens, specifically because of the separation of GS 3 + 4 (GG 2) from GS 4 + 3 (GG 3) and GS 8 (GG 4) from GS 9-10 (GG 5)," Dr Lane's team stated. "Data prospectively collected in the MUSIC registry demonstrate a stepwise increased risk of high risk features at prostatectomy with each biopsy GG tier."
Although data from academic centers have validated the GG system, these study findings confirmed its utility for community practice. In addition, study results substantiated that biopsy and surgical GG 1 and 2 are alike in their BCR risks after RP likely due to smaller amounts of Gleason pattern 4 cancer, the investigators explained.
Reference
Kirmiz S, Qi J, Babitz SK, et al. Grade groups provide improved predictions of pathological and early oncologic outcomes compared with Gleason score risk groups. J Urol. DOI:10.1016/j.juro.2018.08.081